2023 IT Jobs in Poland: A Comprehensive Overview of the IT Job Market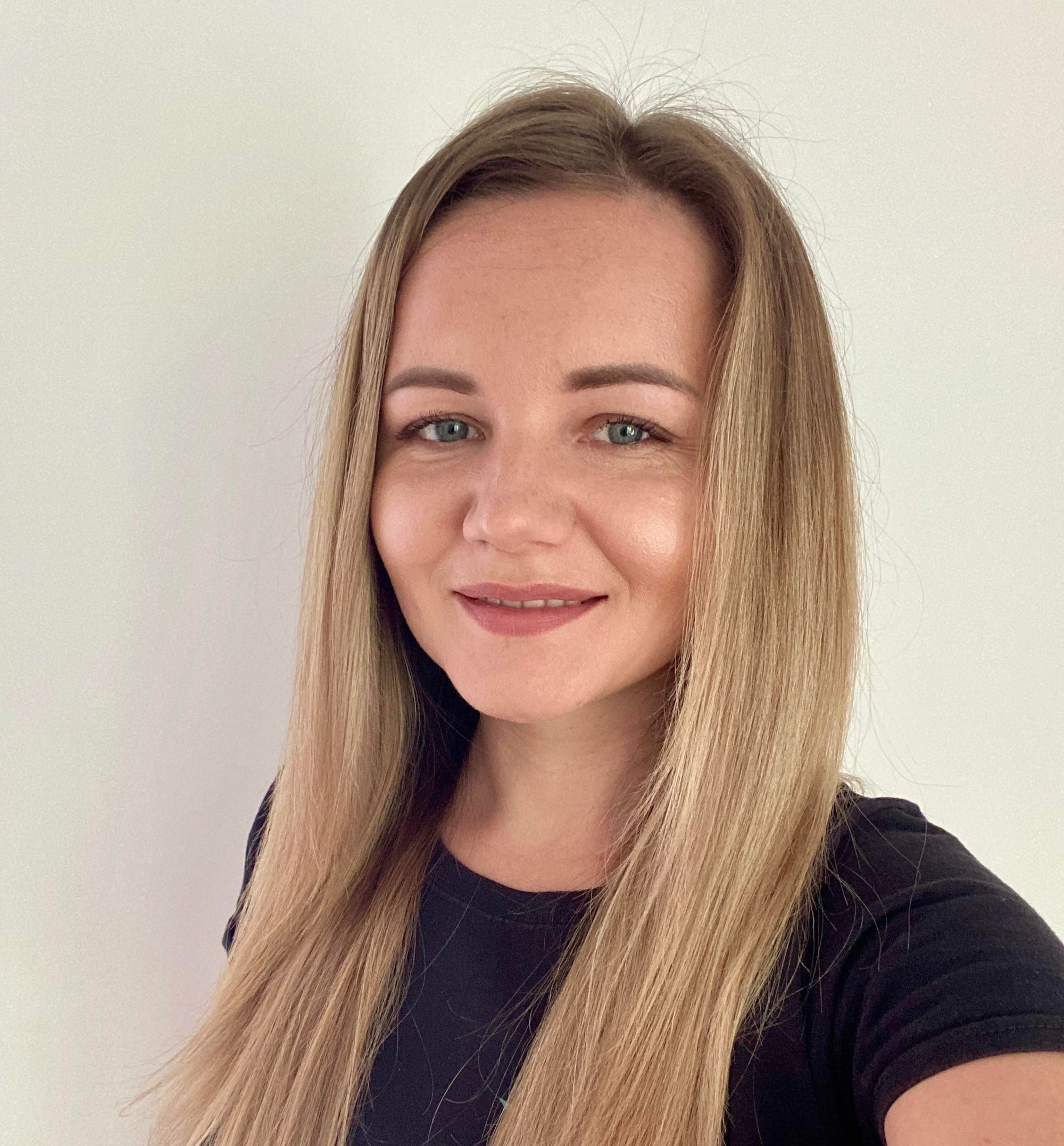 Lidia Dats
8 min read
The 2023 global recession led to job candidates facing layoffs and budget cuts in the IT sector all over the world. Nevertheless, the hiring process for IT talents remains vital for business continuity, adapting to market changes, and ensuring long-term competitiveness.
In the context of Poland, it's important to highlight that the Information and Communication sector, along with the Finance and Insurance sector, stands out as a source of optimism in the economic situation based on the report published by GUS in April 2023.
So, let's delve into Poland's IT job market and explore salary trends, the average incomes for highly sought-after specialists, and the market challenges anticipated in 2023.
IT market in Poland in 2023
Poland boasts the most extensive reservoir of software developers in the entire Central and Eastern European (CEE) region, with approximately 500,000 professionals.
Only in Krakow, the number of international IT companies doubled in 2022 compared to 2021, with 40 new IT players.
According to Nofluffjobs's report in 2022, 8.2% more job ads were published than a year earlier.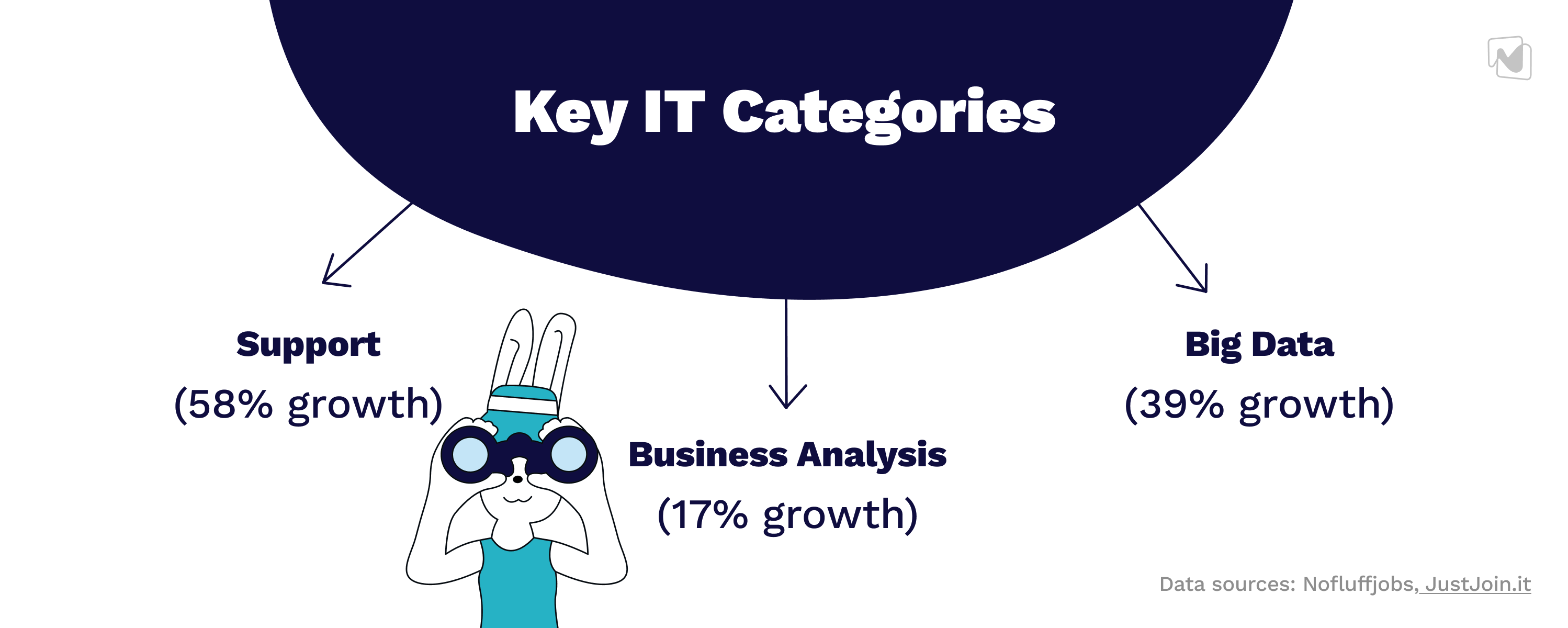 Traditionally, Backend, Frontend, and Fullstack programming categories have been dominant, collectively constituting approximately half of all job advertisements in the sector. Backend programming, in particular, holds a strong position, with the largest number of specialists falling into this category, making up 27.7% of all job postings in 2022.
Significant increases in job advertisements were observed in other key IT categories, including Support (58% growth), Big Data (39% increase), and Business Analysis (17% rise). The demand for specialists in Big Data and Business Analysis has been steadily increasing over the years.
After analyzing the most popular job boards in 2023, such as Nofluffjobs and JustJoin.it, we have concluded that there is the highest demand among Polish employers for mid-level (44%) professionals.
Salary Trends
IT salary trends in Poland over the past year reveal three distinct patterns. Firstly, software development roles saw a remarkable 14.14% increase in salaries, surpassing those in infrastructure and operations, marking an unprecedented desire for software-centric positions.
Secondly, salary growth across all job categories was almost ubiquitous, with 69% experiencing increases exceeding 10% and 14% going beyond the 20% mark. The most substantial salary leaps were observed in data-related roles, with an average increase of 22% in Business Intelligence, Big Data, and Data Science, while Big Data developers witnessed an impressive surge of over 40%. The need for specialists in these domains is also on the rise.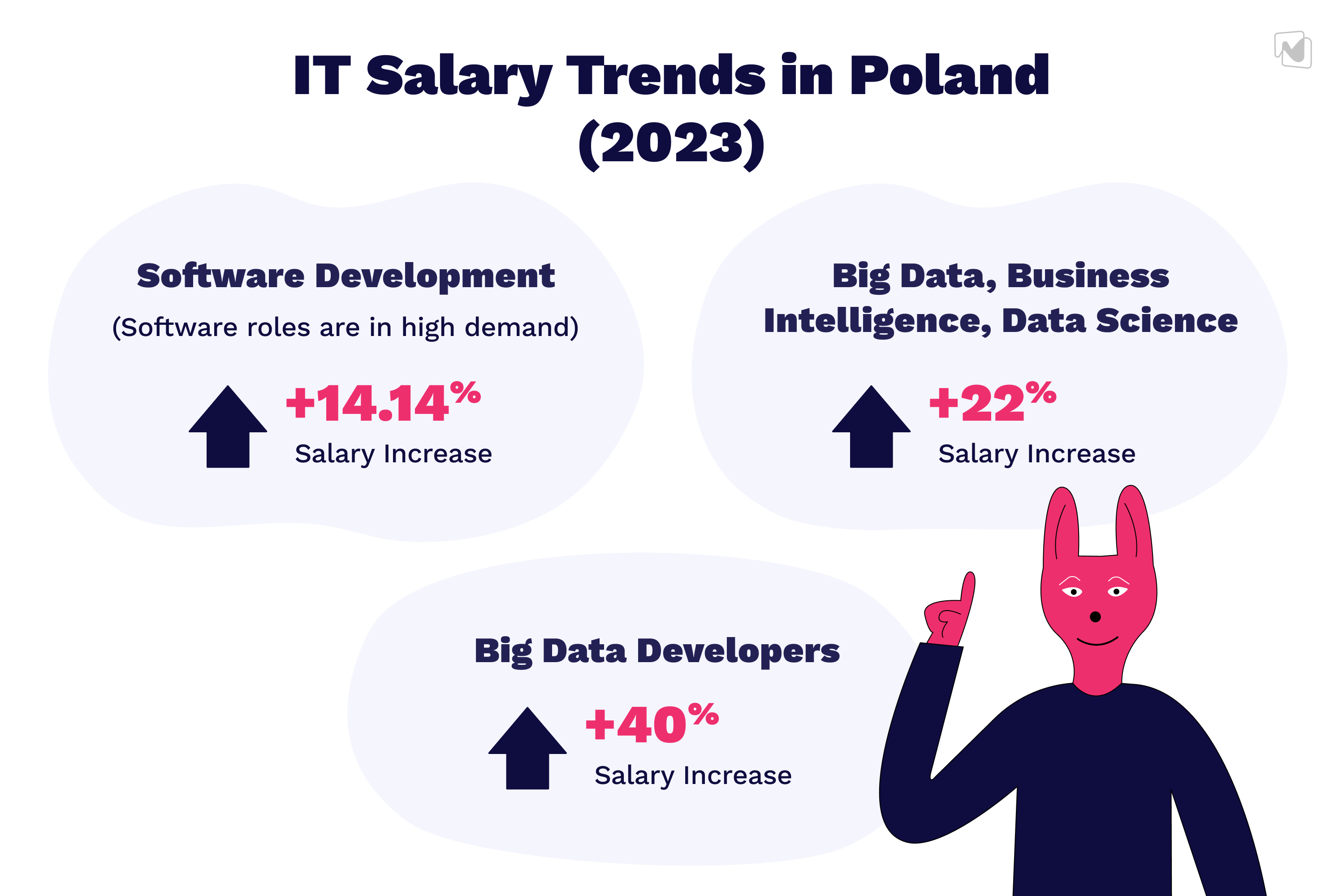 Our own statistics, based on open job positions, indicate that IT specialists in Poland anticipate an average pay increase of at least 20%-25% when changing jobs.
Despite the popularity observed in open job ads and the percentage of salary growth for the specialists mentioned earlier, back-end, front-end, and full-stack engineers continue to be the most sought-after categories in 2023.
Average salaries for Backend, Frontend, and Full-stack developers
Based on salary ranges from job offers at No Fluff Jobs over the past 6 months, Junior Backend developers can expect annual earnings ranging from $22,083 to $32,462 (B2B: net on the invoice, excluding VAT (further in the article - net).
Middle backend developers may find salaries in the range of $46,375 to $61,114 net, while Senior developers could potentially earn between $61,430 and $79,088 net.
Of course, salary ranges for Back-end developers vary depending on the programming language, company, and other factors.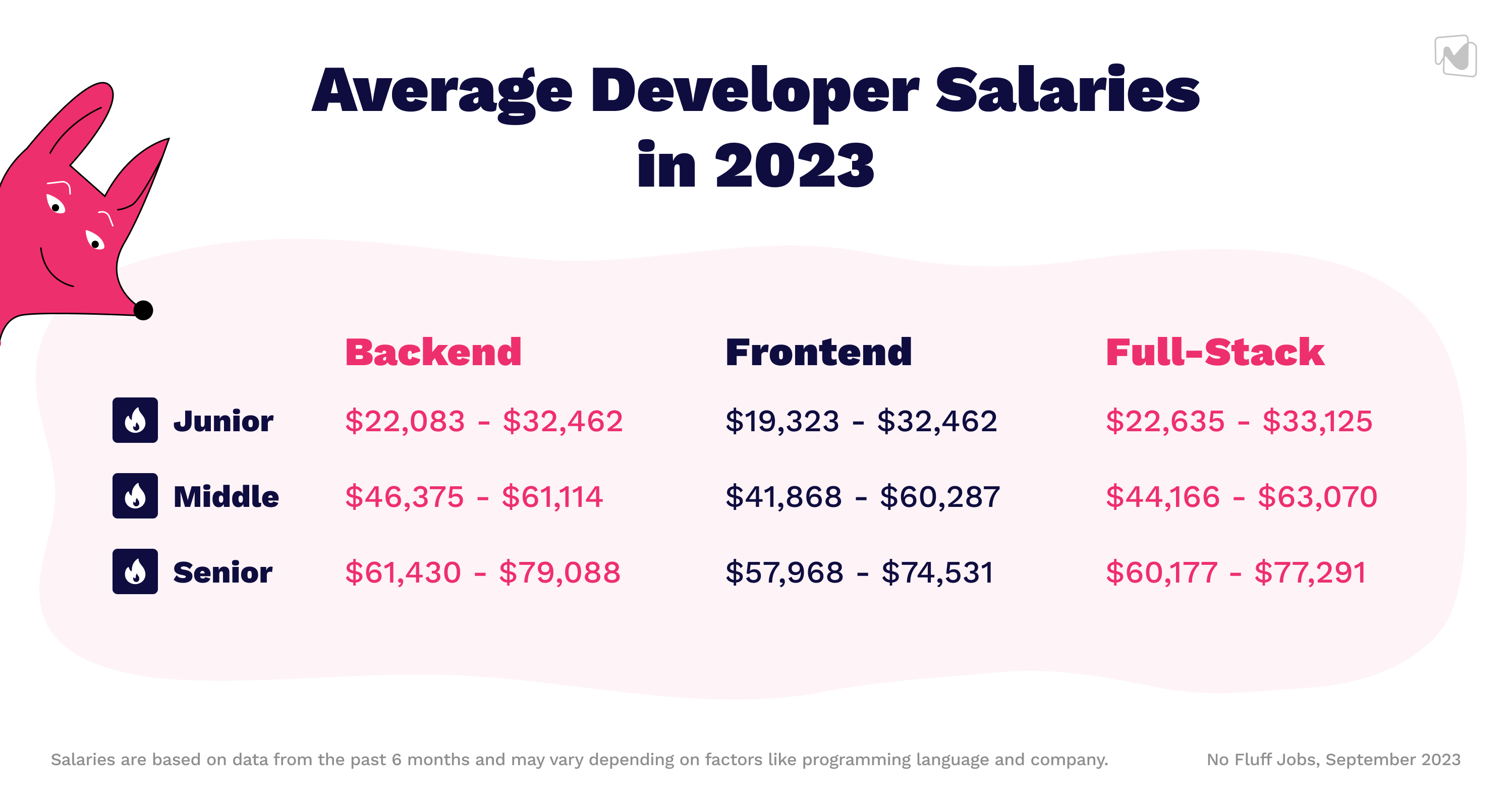 The most "expensive backend programming language" for employers in September 2023 is Rust. Additionally, senior Java and TypeScript engineers have the chance to earn a net salary of $90,000 to $100,000 net in 2023.
Frontend developers can expect slightly lower pay compared to the backend, but the difference is not significant.  For junior developers, the annual salary range is $19,323 to $32,462 net, for mid-level it's $41,868 to $60,287 net, and for senior-level, it's $57,968 to $74,531 net.
And finally, let's take a closer look at the salaries of full-stack developers, who have been the most sought-after specialists in the Polish IT market for several years in a row. Over the past 6 months in Poland, full-stack developers have seen salaries ranging from $22,635 to $33,125 net for juniors, $44,166 to $63,070 net for mid-level professionals, and $60,177 to $77,291 USD for senior experts net.
For evident reasons, the compensation for full-stack developers has surpassed that of both back-end and front-end specialists for several years.
Market Challenges
Suffice it to say that the Polish IT market's growing potential makes it increasingly attractive for businesses. In order to be competitive company should consider Polish IT professionals' specific preferences and characteristics when hiring.
Here are some of them: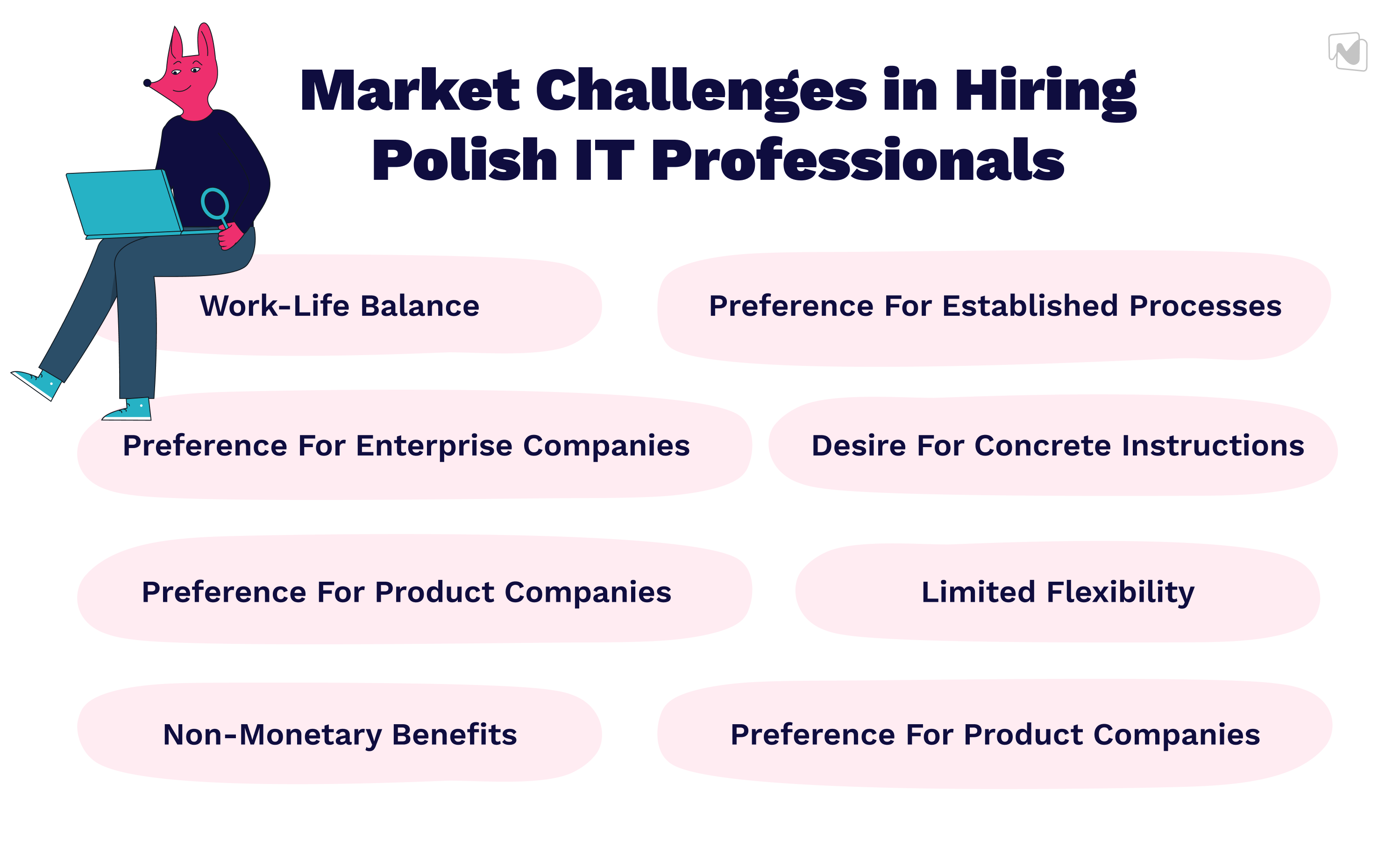 Preference for Product Companies
Polish IT specialists prefer working in a product company over an outsourcing firm. To attract top talent, businesses should emphasize the product-focused nature of their work and the opportunities for innovation and long-term projects.
Preference for Established Processes
These professionals are more comfortable in environments with established processes. A company should highlight its structured approach to project management and provide evidence of well-defined workflows.
Preference for Enterprise Companies
Polish IT specialists tend to work for enterprise companies over startups. Highlighting the stability and long-term prospects of the organization can be advantageous.
Desire for Concrete Instructions
Polish IT specialists prefer clear instructions and policies over a more open-ended approach. Businesses should be prepared to provide detailed guidelines and expectations for projects.
Limited Flexibility
While flexibility is valued, Polish IT specialists may be less flexible, especially when deadlines are tight. A company should plan projects with realistic timelines and avoid excessive overtime expectations.
Work-Life Balance
A commitment to work-life balance is essential for attracting and retaining Polish IT employee. Emphasize policies and practices that promote a healthy work-life balance, discourage excessive overtime, and prioritize employee well-being.
"Remote work" and "flexible working hours"
Stand out among the main non-monetary benefits frequently mentioned by our candidates (over 70%). IT specialists value the opportunity for remote work even more than they did last year.
Offer currency
While 90+% of IT professionals still receive their salaries in Polish Złoty (PLN), only a third part of them prefer this currency. Polish specialists show a preference for salaries in US Dollars (USD) and Euros (EUR). In the race to attract top employee, organizations have begun to provide salaries in currencies other than PLN.
In summary, to address challenges in hiring IT professionals in Poland, businesses should align their recruitment strategies with the preferences and expectations of Polish IT specialists. By offering a structured and well-balanced environment, firms can stand out in a competitive market and attract the employee they need.
Poland's 2023 IT Talent Pool: Growth Drivers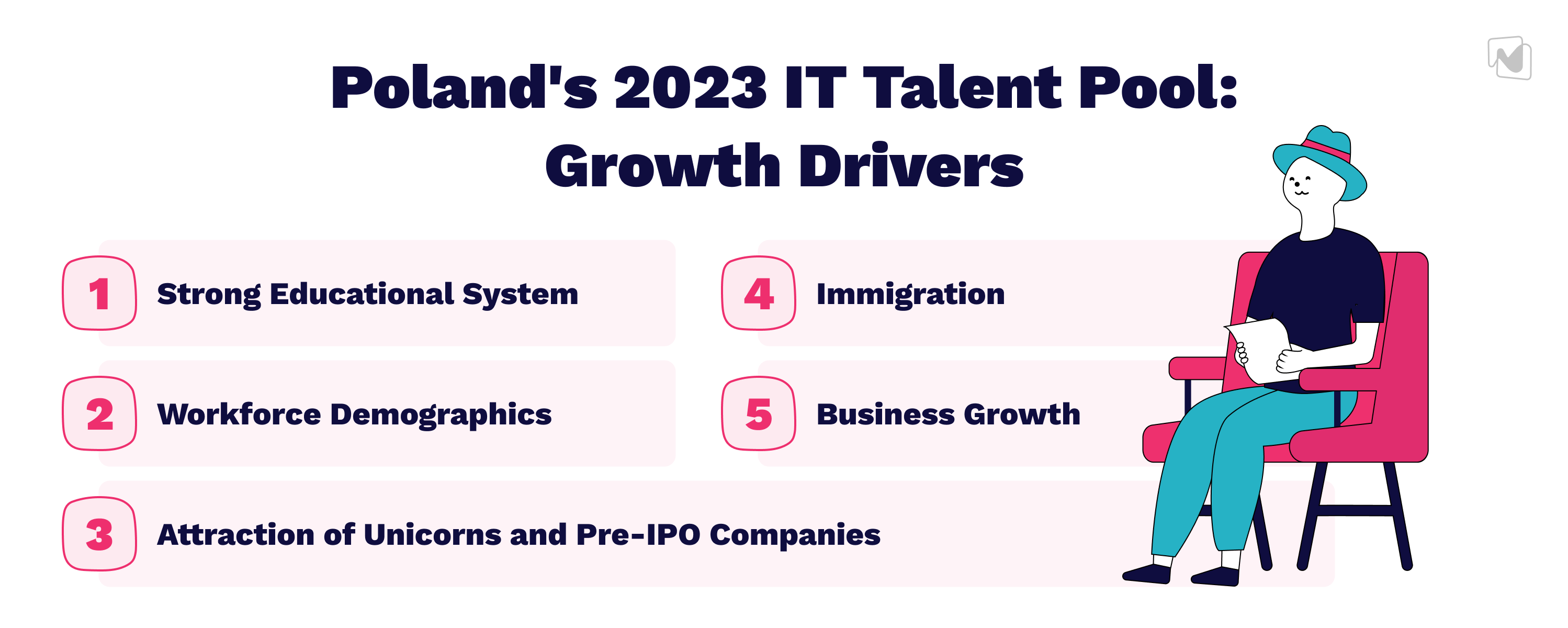 In 2023, Poland is estimated to have a substantial IT candidate pool consisting of approximately 500,000 professionals. This number is influenced by several key factors:
Strong Educational System: Poland's robust educational system produces around 16,000 computer science graduates annually. These graduates significantly contribute to the IT candidate pool, ensuring a continuous influx of fresh employee into the market.
Immigration: Immigration, particularly from Ukraine and other European countries, has played a significant role in expanding the IT human resource pool in Poland. The ongoing war in Ukraine has led to an influx of Ukrainian IT specialists into Poland. This integration between the Polish and Ukrainian IT markets has been facilitated by the registration of over 500 IT enterprises with Ukrainian capital in Poland, further expanding the candidate pool.
Workforce Demographics: The demographics of the IT workforce in Poland have evolved over the years, with a growing number of foreign professionals contributing to the diversity and skill set of the human resource pool. Additionally, the integration between the Polish and Ukrainian IT markets has deepened, resulting in a substantial presence of Ukrainian IT specialists in Poland.
Business Growth: The entry of new enterprises including global giants like Volvo and First Advantage, has driven the growth of the IT human resource pool. Additionally, the expansion of Global Business Services to include software R&D by companies such as Heineken, Euroclear, and TechnipFMC has created more opportunities for IT professionals. Major tech businesses, including Microsoft and Google, have made substantial investments in the Polish IT industry. Microsoft has launched the first cloud data center in Central and Eastern Europe, called Azure Poland Central. Google has announced a EUR 590 million investment in a Warsaw-based office complex called Warsaw Hub, which will house 2,500 employees.
Attraction of Unicorns and Pre-IPO Companies: The presence of unicorns and pre-IPO companies in Poland has not only contributed to job opportunities but also added prestige to the local IT industry, attracting top employees.
Final words
In conclusion, the 2023 IT job market in Poland serves as a beacon of hope amid global economic challenges, boasting a thriving Information and Communication sector that attracts both local and foreign tech talent. With a talent pipeline of approximately 500,000 skilled IT professionals, the country offers diverse opportunities and competitive salaries.
To succeed in this dynamic landscape, businesses must align their recruitment strategies with the preferences and expectations of local IT specialists. Emphasizing product-focused work, structured processes, and enterprise stability is crucial for attracting top technology experts.
MagicHire IT recruitment services are uniquely positioned to connect businesses with top-tier tech talent in Poland. Our expertise and market insights enable us to navigate these challenges and seize opportunities. Whether you need junior, mid-level, or senior IT professionals, our tailored services can meet your specific needs.
Don't miss the chance to tap into Poland's vibrant tech talent pipeline. Contact us today to schedule a consultation and discover how MagicHire can be your partner in success in the Polish IT market, offering not only recruitment but also outsourcing services to meet your workforce needs.


FAQ
How does the state of Poland's talent pools affect the demand for information technology jobs in 2023?
The robust employee pools in Poland, comprising approximately 500,000 IT professionals, significantly influence the need for information technology jobs. How is this impacting the job market?
What are the key trends in IT job advertisements related to cloud technology in Poland for 2023?
In 2023, IT job advertisements in Poland indicate a strong need for professionals with this expertise. The adoption of cloud solutions has led to increased job opportunities in this specialized field.
What is the current state of the IT job market in Poland in 2023?
In 2023, the IT job market in Poland is thriving, especially in the Information and Communication sector. Despite the global recession, the demand for IT professionals in Poland remains robust, making it an attractive destination for tech talent seeking opportunities in managed services, business analysts, and cutting-edge technologies.
What factors contribute to the growth of the IT talent pool in Poland in 2023, particularly in the IT sector?
Several factors contribute to the growth of Poland's IT talent pool in 2023, including a robust educational system, immigration of IT specialists, evolving workforce demographics, the entry of global companies into the IT sector, and the presence of unicorns and pre-IPO companies.